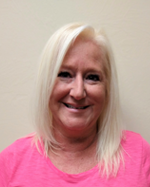 Western Auto Assoc.
15845 S.W. Warfield Blvd.
Indiantown, Fl. 34956
Ph:772-597-3898
Anna was born and raised in Indiantown, has been married for 30 years and is Mother to 3 beautiful daughters for almost 28 years now - Taylor, Autumn and Brooke.  She has also owned a business in town, with her husband for over 30 years.
Anna is from 'Indiantown Royalty' her Grandparents were raised in Indiantown, and they raised their family of 3 daughters here, as well as owning W&W Lumber and the Seminole Inn. Mrs Wall (Anna's Grandmother) was named Woman of the Year in Agriculture (2006) and still owns and operates a cattle ranch at the age of 91.
Like her Grandmother who was on a number of Boards, Anna has been a Board member for 3 years, and is looking forward to the role of President in 2022.
Anna is passionate about her family, her town and her animals (she is an avid dog lover). She understands the importance of family and community, and lives by her country values; she is fervent in her patriotism for her Country.